Research & Development...
Hikari fish foods are developed with the health and longevity of fish first and foremost.
The Hikari team firmly believe that the very start of the development process for any new diet is the requirement to investigate and obtain a thorough understanding of the fishes natural habitat.
Studying the fishes ecology first hand gives a unique insight into their eating habits and dietary requirements and is essential to help provide a scientific base on which all Hikari aquatic diets are developed.
The Hikari field research team, designated the "Kamihata Expedition Team" is headed by the company's chairman Mr Shigezo Kamihata. Explorations take place as far afield as Irian Jaya, Lake Malawi, Guiana Highland, Indian Ocean, the jungle of Southeast Asia and the Holy River Ayeyawady, all of which offer many secrets to fish health, colouration and long life.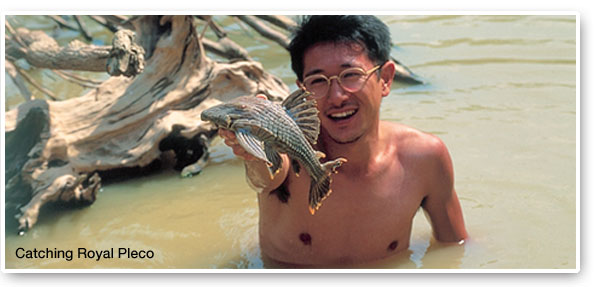 Shop Now
Buy Hikari online.
Herptile
Scientifically balanced diets for insect & fruit eating reptiles

Coldwater
Scientifically developed diets for beautiful goldfish

Tropical
Species specific diets for all types of tropical fish

Cichlid
Diets to bring out Cichlids natural brilliant colouring'

Marine
For marine fish that look like they've just come off the reef

Pond
High quality daily diets for all types of pond fish

Koi
The world's first scientifically developed probiotic Koi diets