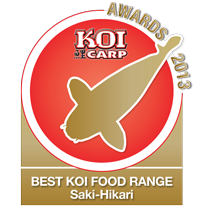 Saki-Hikari has been voted 'Best Koi Food' in the Koi Awards 2013 carried out by Koi Carp Magazine. The awards give magazine readers the chance to vote for their favourite products covering a number of categories. The results were announced in the March 2014 issue of the magazine which has just been published. This year's awards were the most successful ever with 2,266 people taking the time to vote.
Koi Carp magazine states "First choice for breeders and hobbyists alike, there seems to be no stopping this brand in maintaining its position as the first choice for hobbyists."
Comments from readers include:
"The Michelin star of Koi food"
"A good quality food with little waste"
Developed on the back of decades of first hand breeding experience and feeding trials, Saki-Hikari diets provide complete and balanced, superior nutrition, bringing out the Koi's true potential. The only fish foods to contain Hikari-Germ, a strain of Bacillus bacteria which aids digestion, helps optimise nutrient utilisation resulting in less waste and excellent water quality as well as supporting the Koi's own good bacteria, making the fish's immune system stronger. Only the finest quality ingredients go into Saki-Hikari making them extremely palatable and providing superior nutrition. The range includes Balance, Growth, Colour and Multi-Season and the recently launched Pure White.
Saki-Hikari diets are available in small, medium and large pellet sizes and pack sizes of 2kg and 5kg.